The Texas First Way
As a proud HOLT® Company, Texas First Rentals shares the values-based operating philosophy of all HOLT Companies (HOLT CAT®, Texas First Rentals™, HOLT® Truck Centers, HOLT® Crane & Equipment, HOLT® Agribusiness, SITECH® Tejas, HOLT Ventures) through our unique Mission, Vision and Core Values. These three elements provide each of our associates - from top managers to the newest employee - with guidelines for making daily decisions in their job.
In simple terms, our Mission captures what we do as a company. Our Vision provides an evergreen, ongoing purpose for completing the mission. Perhaps most important, our core Values describe how we treat one another and customers. In many ways, the teaching, use, and positive reinforcement of values-based decision making and behaviors are what differentiate Texas First Rentals in the industry.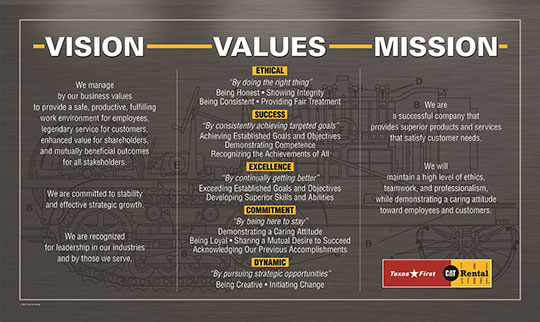 We're Texas First Rentals, and we created a rental services company we ourselves would like to do business with.
If you have a construction project to complete, a facility to manage, or a special need to figure out, we have an affordable solution with a full line of aerial, dirt, and power equipment. And we promise to do whatever it takes to make your job easier and more successful.