Texas First Rentals, a leading construction equipment rental company, shares the values-based operating philosophy of all HOLT Companies (HOLT CAT®, Texas First Rentals™, HOLT® Truck Centers, HOLT® Crane & Equipment, SITECH® Tejas, HOLT Ventures™, HOLT® Manufacturing, and HOLT® Renewables) through our unique Mission, Vision and Core Values. These three elements provide each of our associates - from top managers to the newest employee - with guidelines for making daily decisions in their job.
In simple terms, our Mission captures what we do as a company. Our Vision provides an evergreen, ongoing purpose for completing the mission. Perhaps most important, our core Values describe how we treat one another and customers. In many ways, the teaching, use, and positive reinforcement of values-based decision making and behaviors are what differentiate Texas First Rentals in the industry.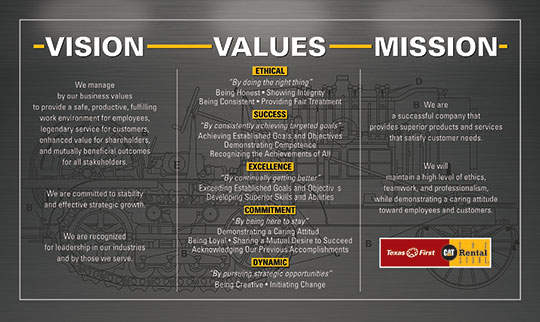 We're Texas First Rentals, and we created a construction equipment rental company we ourselves would like to do business with.
If you have a construction project to complete, a facility to manage, or a special need to figure out, we have an affordable solution with a full line of aerial, dirt, and power equipment. And we promise to do whatever it takes to make your job easier and more successful.
Texas First, a construction equipment rental company, is a sister company of HOLT CAT®, the largest Caterpillar® product dealer in the United States. The Holt family has been serving customers for over eight decades in the Texas market. We've learned the ins and outs of service, safety, quality, and high performance.
With our Texas area construction equipment rental company, you can rent the Caterpillar® products and equipment you've always trusted for your toughest jobs – plus a whole lot more: equipment from Genie®, JLG®, Sullair®, Wacker®, LayMor®, Vermeer®, and other top-notch manufacturers. We offer specialty equipment like booms and aerial platforms, along with pumps, welders, concrete, masonry equipment and storage containers.
The main thing is that we're committed to doing business the right way…the Texas First Way. That means honesty and straight talk sealed with a handshake. We won't be perfect, but when we make a mistake, we'll own up to it and always make it right.
Please give our general manager, Don Myrick, a call at 210.241.9422 or shoot him an e-mail at don.myrick@texasfirstrentals.com.
As a Texas construction equipment rental company we're ready to go to work and do whatever it takes to earn your business. How can we help you today?